10DLC Explained
The term 10DLC refers to a system being used across North America that allows businesses to communicate with consumers using standard 10-digit long code (10DLC) phone numbers via A2P messaging. It's relatively easy to understand, even though it may sound complicated. A 10DLC number is a simple 10-digit phone number that can handle the high-volume messaging demands for commercial usage scenarios.
A2P is the most frequent and least expensive method for businesses to communicate with customers by SMS. A2P messaging stands for Application to Person messaging.  It is less expensive per month for number messaging activation, whereas short code and toll-free SMS are more expensive. And short code and toll-free SMS have a longer timeline for registering a campaign. In many cases, A2P is created in near real-time.
Originally called 10-digit A2P messaging, 10D messaging, 10 digit SMS, 10D long codes, 10-digit long codes are 10-digit phone numbers that can deliver A2P messages. 10DLC also enables businesses to send one text message to many 10D destinations without having to manage multiple short codes, so it's easier for enterprises to send high volume A2P traffic.
10DLC is excellent for:
Mobile marketing for multinational brands;
Sending out alerts to customers via brick-and-mortar stores;
An organization that wants to use SMS to turn their landline phone number into a high-volume A2P messaging device.
In recent years, texting over local landline phones has grown increasingly widespread. U.S. carriers want to ensure it remains a channel that consumers can trust without being inundated with spam or unsolicited messages.
To achieve this objective, mobile network operators like AT&T, Verizon Wireless and Team Mobile have joined together to establish standards and registration procedures for 10DLC numbers to gain a better understanding of who is using 10-digit long codes for application-to-person messaging and what they're sending throughout the network.
The Differences Between Shortcodes, 10DLC, and Toll-free Numbers
There are a few factors that play into the differences between short code, toll-free SMS and long code (A2P/10DLC). They include cost of numbering resource, cost of delivering the message, timeline for registering a campaign and throughput.
Cost of numbering resource
10DLC is the least expensive and can be set up real-time in most cases, followed by toll-free SMS which is more expensive and can take a few weeks to get approved, followed by short code which can take a few months and costs more. 
Cost of delivering a message
10DLC is the least expensive way to deliver a message. 
Timeline for registering a campaign
Campaign registration for short code can take 8 weeks or longer to process. Registering a campaign for toll-free SMS is faster and for 10DLC it is the fastest. In many cases, the campaign registry is done in near real-time. These process times are not under the control of Signalmash.
Throughput
Throughput is the volume of messages you can send, meaning the number of messages the mobile network operators allow you to send. Short code has the highest throughput, followed by toll-free SMS and then 10DLC. However, with the new brand and campaign registration process, in many cases 10DLC is enough and there is a vetting process to increase throughput.
Short code is the product of choice for applications that require high throughput, the highest level of security (i.e. 2FA/OTP), and emergency notifications where guaranteed delivery is critical.
Compared to toll-free numbers and short codes, 10DLC messaging delivers a wide campaign scope with lower costs per message and offers hyperlocalization for specific locations of a business or area codes. Additionally, 10-digit long codes also build consumer trust since they only receive text messages from actual 10 digit phone numbers where the destination number matches the source number.
What Are the Benefits of 10DLC?
Following are some of the benefits of 10DLC:
Higher SMS message volumes – The limitations of short codes and toll-free long codes may be overcome when using 10-digit long code numbers because they have higher SMS capacity. At present, 10DLC messaging may transmit messages at a rate of 5 to 15 per second, and that number is likely to increase in the future. Therefore, for A2P messaging, a 10DLC number is far superior to a local long code.
Lower SMS prices – 10DLC numbers are relatively lower in cost compared to short codes at approximately $0.75 per month per number. A 10-digit long code is a cost-effective solution for businesses that can't afford short code expenses of $750 per month for a random number or $1,500 a month for a vanity number, or who don't send enough SMS messages to justify the cost of a short code.
Recognizable area code – Have you ever received a phone call from an unfamiliar or unknown area code? You probably ignored it. Your customers do the same thing!  You can use 10DLC to contact them more successfully.
Faster, reliable deliverability – Because 10DLC numbers are completed online through the campaign registry process for A2P messaging, messages sent on these numbers are more likely to reach their destinations.
Voice-enabled – Unlike short codes, 10DLC numbers can also transmit voice. You can send and receive text messages on the same phone number that your customers use to call your company. This helps consumers have a more coherent experience while interacting with your brand.
Who Should Consider Using 10-digit Long Codes?
Businesses looking for a more cost-effective approach to deliver marketing SMS messages.
Companies that need to send many text messages but don't want their texts to be penalized as spam.
Companies that wish to provide a more pleasant user experience by designing text flows that take the prospect toward their desired goal.
Businesses that wish to take advantage of the higher open rates for SMS messages compared to conventional email campaigns.
10DLC Rules and Regulations
10DLC numbers are subject to the 10DLC policies and procedures as outlined by the 10D messaging platform providers for the A2P over 10DLC eco-system. The FCC established the STIR/SHAKEN framework, which aims to heighten security and integrity across the telecommunications industry. Under STIR/SHAKEN, callers must now have their identifying information verified before calls may be placed.
As a result of the FCC's STIR/SHAKEN framework, major phone service providers such as AT&T, Verizon, and T-Mobile—also known as Tier 1 carriers—have established their own standards and rules for SMS.
Your company must register as part of adhering to the requirements set by Tier 1 carriers. You have to register three distinct levels: your company, brand and campaign categories.
10D messaging platform providers may establish additional rules and regulations regarding 10D messaging for their registered 10D numbers, which apply in addition to those set by the FCC's STIR/SHAKEN framework.
A2P 10DLC Registration
The process of configuring your 10-digit long code requires just a few steps. When you use Signalmash, you will get a 10-digit number for your A2P/10DLC messaging campaigns. You need to do the following:
Find 10DLC service providers who can offer 10-digits or 10D A2P phone numbers.
Verify which 10-digit long code is available in each country where you want to send messages.
Find out what happens if one number is disconnected. If possible, get a backup 10-digit long code that routes to the same destination.
A2P aggregators must manage 10DLC on behalf of their clients' 10-digit account IDs and software tokens (T-Pin Auth codes). These are necessary for sending bulk SMS through an API solution.
A2P/10DLC registration applies to any company that sends and receives messages in the United States using long numbers. Signalmash will request your registration information and submit it to the Campaign Registry for approval by the carrier. After both the brand and campaign have been approved, long numbers linked to it can be used to send and receive messages.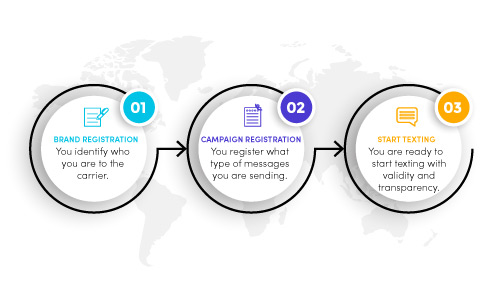 Signalmash 10DLC Solutions
Signalmash is the best solution for businesses that want to improve their communications, outreach, and engagement. We simplify the job of seamlessly incorporating programmatic voice and messaging into any platform or app. Our unique approach allows our clients to focus on what they do best – building great products and services – while we take care of everything else!
Our experience in mobile marketing technology helps businesses stay competitive. As the technology world shifts to one dominated by mobile devices, we help businesses connect with their customers via several inventive solutions that range from chat software to an SMS API.
Setting up 10DLC on your existing business phone number has never been easier. Choose from our variety of flexible business texting plans, which include full-featured API and software solutions.
Contact us today and let us show you how easy it is to get started!
Ask us how you can cut your Twilio or CPaaS bill up to 50%!!