Vanta, a woman founded company backed by YCombinator and Sequoia, helps companies automate compliance for standards such as SOC 2, ISO 27001, HIPAA, GDPR and other in-demand privacy frameworks. Over 4,000 companies including Quora, Autodesk, Calm and Modern Treasury, utilize Vanta to complete security audits.
Receive 10% off of your spend with Vanta in Signalmash credits.  Contact our team for more information.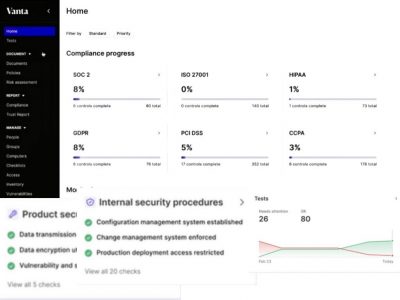 Vanta for all your compliance needs
Vanta automates up to 90% of your tasks for security audits.
Use Vanta to create policies from a template.
Use Vanta to check if your policies are in accordance with the compliance requirements.
Use Vanta to check the status of your certifications.
Get compliant in weeks not months
Gather all the information you need in one place and automate the collection of compliance data to quickly get your SOC 2 certificate.
Complete the SAQ and ROC faster by understanding the PCI DSS requirements, which Vanta will help you do. Vanta is an QSA.
Use Vanta policy templates to quickly get your ISO 27001 certification and take your business to the next level internationally.
Automate your evidence collection so you can easily prove GDPR compliance, all while saving time and money.
Simplify the HIPAA compliance certification process while managing sensitive health information in the cloud.
Determine if your business is CCPA compliant through Vanta's platform to ensure you can do business in California.
Compliance and security matter
Signalmash partners with Vanta to bring you secure solutions.
We understand the importance of being compliant and having your data stored securely on the cloud. 
That's why we are giving you a discount when you spend more than $10k with Vanta. 
Contact one of our Expert Mashers to learn more.
Vanta