Roor helps companies enhance brand visibility, improve client engagement and increase conversions through database marketing automation. 
Receive 10% off of your spend with Roor in Signalmash credits.  Contact our team for more information.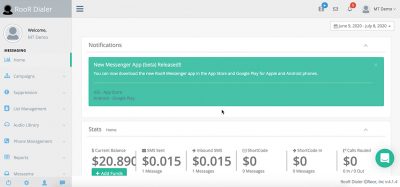 Roor as your automation solution
Roor automates database marketing to increase conversions.
Use Roor to automate email, SMS and voicemail delivery.
Use Roor to keep your data in one centralized location.
Use Roor to gain brand visibility, improve client engagement and generate more revenue.
Automate, generate & follow-up
Roor's AI engine handles full conversations back and forth with prospects via SMS, thus eliminating excess personnel from the sales and support process.
Lead Nurturing & Follow-up
When a prospect requests information on your website, Roor's app automates the lead follow-up process by sending emails, SMS messages, voicemails and calls.
Database Management & Automation
With Roor, you can store, search and filter all your data in one centralized location. You can also manage suppressions and duplication information.
Database Marketing & Messaging
Generate leads, sales, and new customers with SMS, voicemail, dialing and email automation. You can also follow-up with leads and customers in a seamless way.
Signalmash partners with Roor to automate your business so you can increase conversions.
We understand the importance of generating, automating, managing and following up with your leads. 
That's why we are giving you a discount when you spend more than $10k with Roor. 
Contact one of our Expert Mashers to learn more.
Roor