CallEvo helps companies make calls faster in the new TCPA-compliant workspace. They are the most cost-effective calling software on the market and help organizations improve their outreach through their outbound communications platform.
Receive 10% off of your spend with CallEvo in Signalmash credits.  Contact our team for more information.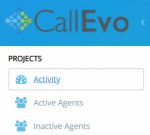 CallEvo for your phone outreach needs
CallEvo is the leading calling platform for phone campaigns.
Use CallEvo to reach customers quickly by phone.
Use CallEvo to create workflows based on campaign or client.
Use CallEvo to send polls, coordinate events, send notifications and more.
Accelerate the speed of your outreach
Political and Nonprofit Organizations
CallEvo is the top calling platform for political campaigns. They help political and nonprofit organizations make calls to their constituents. 
Telemarketing Call Centers
Call centers experience reaching mobile phones and land lines eight times faster with CallEvo. They are the most cost-efficient high-volume calling software available. 
Signalmash partners with CallEvo to bring TCPA-compliant phone solutions.
We understand the importance of reaching customers effectively by phone while being compliant.
That's why we are giving you a discount when you spend more than $10k with CallEvo. 
Contact one of our Expert Mashers to learn more.
CallEvo